¡GET THE SLIM BODY YOU ALWAYS WANTED!
Weight Management Fuxion / Independent Distributor
Weight Management Fuxion, More and more people are trying to manage their weight without learning the healthiest and most efficient way to achieve their goals. FuXion introduces this system of products to supplement a healthy lifestyle, managing fat percentage, lowering cholesterol, and controlling your blood sugar levels.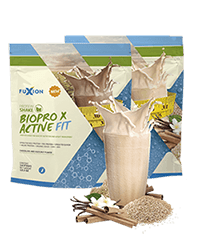 BIOPRO X ACTIVE FIT
Weight Management Fuxion, Lose weight and inches, while toning your muscles faster with BioPro X Active Fit; a 100% plant-based active protein that offers the perfect supplement to your daily diet with its low-calorie, allergen-free formula, high in biological value. This incredible protein shake will also help you to quickly and effectively eliminate body fat, without reducing muscle mass and control your appetite thanks to all the natural ingredients that gives you an increased feeling of fullness. Enriched with Malabar Tamarind, L-carnitine, Vitamins, B Complex, and Minerals to make you look and feel better in less time!
THE BODY YOU ALWAYS WANTED, FASTER!
THERMO T3
The Thermo T3 formula is a powerful blend of three different teas (red, black, and green) with a delicious lemon tea flavor. and ingredients as L-Carnitine, and Malabar Tamarind that boost its thermogenic effect to help you burn fat more efficiently, getting rid of those rolls in a healthy way. Thermo-T3 will also help you to generate energy by burning fat, increasing your stamina; making it the ideal drink before you start your exercise routine or after meals, to help you reduce fat accumulation in your body .
These statements have not been evaluated by the Food and Drug Administration. This product is not intended to diagnose, treat, cure, or prevent any disease.
TRANSFORM FET INTO ENERGY!
NOCARB T
NoCarb T is an excellent choice to help you manage your weight and keep carbohydrates at bay, thanks to its new formula that incorporates four extraordinary ingredients, helping you control carbohydrate absorption and metabolism more effectively, preventing them from accumulating as fat in your body.
NoCarb T is a blend of Yacon fiber, Chicory fiber and Acacia Fiber (known for helping to reduce the rates of carbohydrate absorption and fat transformation), Apple Pectin and Cinnamon Bark (which are generally believed to contribute to the reduction of glucose in the blood, and aid cholesterol regulation) and Vitamin B and Chromium in organic molecule form (proven to be fundamental for the metabolism of carbohydrates and fats).
It comes in a delicious cinnamon-apple flavor that you will definitely love.
KEEEP THOSE CARBS UNDER CONTROL!
C&C FIT
Weight Management Fuxion, Irresistible roasted gourmet coffee with green coffee extract, rich in chlorogenic acids that help you to control your appetite and reduce your waistline. Its antioxidant components will also help you to reduce your appetite, boost the elimination of cellulite, specifically eliminating accumulated fat.
INDULGE YOURSELF AND STAY FIT!
Do you want more information?